Motivation Theories – Maslow's Hierarchy of Needs.
Maslow's hierarchy of needs is simply a ranked structure of behavioural stimuli that try to explain motivation. It is one of the
Content Theories
of motivation.
Maslow describes BIOGENIC and PSYCHOGENIC needs.
BIOGENIC needs – biological determinants of behaviour.
PSYCHOGENIC needs – emotional or psychological determinants of behaviour.

He described two "higher order needs." These are:
- The need for freedom of inquiry and expression: for social conditions permitting free speech and encouraging justice, fairness and honesty.
- The need for knowledge and understanding: to gain and order knowledge of the environment, to explore, learn and experiment.

Maslow's hierarchy is as follows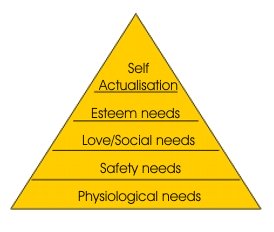 Physiological needs – food, shelter.
Safety needs – security, order, predictability, freedom from threat.
Love/Social needs – for relationships, affection, belonging.
Esteem needs – for independence, affection, belonging.
Self Actualisation – fulfillment of personal potential

Each level of need is dominant until satisfied. A need which has been satisfied no longer motivates a person. However, according to Malsow, the need for self-actualisation can never be satisfied.
---
Return from Maslow's Hierarchy of Needs to Definition of Motivation Home
---