The Power of Positive Thinking – by Norman Vincent Peale
I read The Power of Positive Thinking relatively later than the other books that have impacted my life in some way. I wish I had come across it earlier. Nevertheless, it has affected me in some ways and I am glad I read it and continue to refer to it every now an then.
Norman Vincent Peale is considered to be the father of positive thought by virtue of having shared his wisdom and a lifetime of experience in this book. Surprisingly, he was reluctant to write the book and thanks goes to his wife for pestering him into writing it. What a difference it has made to thousands, if not millions, of people's lives. It would have been a real shame if this knowledge had not been passed on to us.
Mr. Peale mixes years of work, experience and knowledge with great Biblical truths to come up with a book that is rich in meaning and full of practical suggestions on how to apply these in your own life. This is supported by actual examples of how other men have applied these principles and managed to change their lives in one way or another. Many great writers of our time and even those of old continue to quote the power of positive thinking in their works and testify of how it has greatly influenced their lives.
The only thing I would criticize unfavourably about this book is that it is not the easiest of books to read. At times it tends to be long winded and you have to search a little to get what the ultimate message of some passages is. Otherwise it flows well and manages to keep your interest in spite of that.
Invest in yourself. Buy a book today.
Quick Quote:

"BELIEVE IN YOURSELF! Have faith in your abilities! Without a humble but reasonable confidence in yourself and in your own powers you cannot be happy or successful."
---
Other Books By Dr. Moses:

Power Principles For Purposeful Living
"Powerful And Life-Changing Lessons On How To Maximise Your Potential And Live Your Dreams"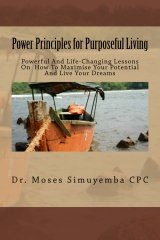 Power Principles for Fearless & Abundant Living
"How To Let Go of Fear and Embrace Prosperity"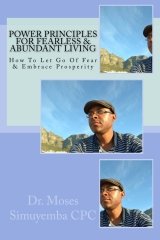 In the POWER PRINCIPLES series of books, Dr. Moses Simuyemba, "Africa's Success Coach", shares his knowledge, experience and insight to help you in overcoming your personal challenges and limitations and inspire you towards the life you desire and deserve: a life of greater purpose, free of fear and full of abundance.