Terms of article submission
If you are interested in submitting an article to Motivation for Dreamers please take note of these terms of article submission:
1. You agree that you are the original author of each article you submit. If you have hired a ghost writer, you agree that you have exclusive rights to each article you submit.

2. There are no guarantees that your articles will be accepted for publication on this website. It is at my sole discretion whether or not to include your articles. If published, I reserve the right to remove any articles at any time. You will be notified if I do.

3. By submitting your articles to Motivation For Dreamers, you agree to allow me to:
» Publish your article on Motivation-For-Dreamers.com and any of its partners.
» Publish your article in RSS format for other websites to syndicate.
» Publish your article in a real time, daily, weekly or monthly newsletter.

4. You will not be paid for submitting your articles and you will not be paid if and when your articles are published. You will receive all credit for your work.

5. You agree to not include any affiliate links in the body of your article.

6. I reserve the right to change these terms of service at any time. I
will generally notify you of any changes through this website and its newsletter.
7. I reserve the right to include advertising on pages with your articles.

---
Other Books By Dr. Moses:

Power Principles For Purposeful Living
"Powerful And Life-Changing Lessons On How To Maximise Your Potential And Live Your Dreams"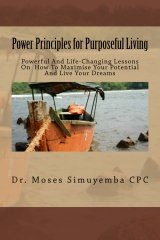 Power Principles for Fearless & Abundant Living
"How To Let Go of Fear and Embrace Prosperity"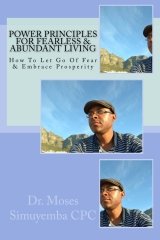 In the POWER PRINCIPLES series of books, Dr. Moses Simuyemba, "Africa's Success Coach", shares his knowledge, experience and insight to help you in overcoming your personal challenges and limitations and inspire you towards the life you desire and deserve: a life of greater purpose, free of fear and full of abundance.