Personal Motivation Stories
Be a Part of this Great Community of Dreamers.
Motivation for dreamers is largely built around my own personal motivation stories. There are many lessons on life, success, achievement, motivation and dreams that I have learnt and seen from my experiences in life. Most times these experiences are not unique or extraordinary in any way. But what makes them different is the lessons I drew from them.
So I got to thinking that it's not a good idea to simply share my own experiences, insights and perspectives. Each one of us has learnt something that has made a real difference in our own lives. Why not create a community in which other people can share their experiences and thoughts on life, success, motivation, achieving your dreams and living a fulfilling life. Hey, why not just create a community where people could simply encourage one another, in whatever way possible. Then everyone can contribute positively and everyone can be an agent of positive change and influence.
I believe there is great power in numbers and diversity. I am only one person, but if others like you joined me, we can achieve so much more.
Let's be all we can be – together.
Let's make a difference – together.
So make your contribution to this great cause and join this great community of dreamers, just follow the links below and fill in the form on the page and I will convert it into your very own web page…

What is Your Greatest Success in Life and What Have You Learnt From it? Share your motivation story and let others celebrate your success as well as learn from you. You could be the answer to someone's problem or dilemma.

What is your Why? What is your greatest reason for wanting to be successful and wanting to achieve your dreams? Share your personal story on what motivates you.

Learnt Anything Special About Life From Your Child? Has your child or any child taught you something valuable about life? Share your lesson and show off that special child in your life.

What Book has Changed Your Life? What is the single book that has made the greatest impact in your life?

Share Your Inspirational Poem. Do you have an inspiring poem you wrote or would like to share? Send it in.

Have a Comment About this Site? Found anything on this site useful or helpful? Say it in style and have your own page with your comment. Criticisms are welcome too.

Submit your motivation article. If your story doesn't fit into any of the categories above you can submit it here. No restrictions – feel free to add what you like.

If you have any personal motivation stories that don't fit into any of the categories above, use this page to share them with others. Just fill in the form below and I will convert it into your very own web page.

Return from Personal Motivation Stories to HOME
Other Books By Dr. Moses:

Power Principles For Purposeful Living
"Powerful And Life-Changing Lessons On How To Maximise Your Potential And Live Your Dreams"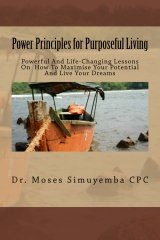 Power Principles for Fearless & Abundant Living
"How To Let Go of Fear and Embrace Prosperity"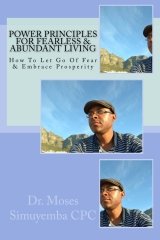 In the POWER PRINCIPLES series of books, Dr. Moses Simuyemba, "Africa's Success Coach", shares his knowledge, experience and insight to help you in overcoming your personal challenges and limitations and inspire you towards the life you desire and deserve: a life of greater purpose, free of fear and full of abundance.