Motivational Stories
From the Greatest Motivational Speaker Competition
These power-packed motivational stories are from "The Greatest Motivational Speaker Competition."

The prize that was up for grabs for these entries was a successful internet business(which you can get and run anywhere in the world)?

The scenario for the competition was:
Imagine you are a motivational speaker receiving an award for your achievements and write what you would say about the one person that has really inspired and motivated you in life how they have done so.
Choosing a Winner
A winner is yet to be chosen and announced. There will be two rounds of voting for the winner:

Round 1: The entries with the most votes and comments will make it into the top 10 finalists. Get your friends and family to review your article, vote for you and leave a comment if they like what you have written. Every vote counts.
Round 2: Another round of voting for the top 10 articles will take place. The judges will choose a winner based 50% on these votes and 50% on the judges' opinion of the articles.
Our judges will review the entries and judge them according to:- Writing style
- Value and uniqueness of the message in the article

Read the motivational stories below
Don't forget to vote for your favourite and comment.
Return from Motivational Stories to "The Greatest Motivational Speaker Competition"
HOME
Other Books By Dr. Moses:

Power Principles For Purposeful Living
"Powerful And Life-Changing Lessons On How To Maximise Your Potential And Live Your Dreams"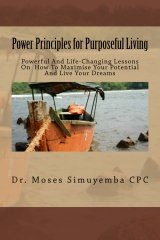 Power Principles for Fearless & Abundant Living
"How To Let Go of Fear and Embrace Prosperity"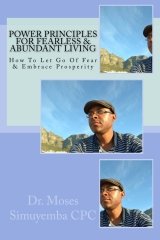 In the POWER PRINCIPLES series of books, Dr. Moses Simuyemba, "Africa's Success Coach", shares his knowledge, experience and insight to help you in overcoming your personal challenges and limitations and inspire you towards the life you desire and deserve: a life of greater purpose, free of fear and full of abundance.